Sarah Ludwig - Interaction Designer at NIO
Nio is reinventing transportation with their new electric and increasingly autonomous cars. Interaction design is critical as we navigate this new space and Sarah is helping lead the way.
Vanessa Slavich - contract Design Researcher with the UN
Vanessa has been working as a contract Design Researcher helping the UN better understand opportunities on their core peacekeeping mission of improving the lives of people on the planet.
Karen Chan - Product Designer at Capital One
Karen was recruited by MDES professor Chris Risdon to help reinvent banking at Capital One as they work to integrate design practices and innovation after the acquisition of Adaptive Path.
Sida Li - Interaction Designer at Carrot Sense
Sida joined CarrotSense, now Pivot, an organization dedicated to helping people beat addictions, starting with smoking. Sida has helped Pivot define their offer and now their design lead path to growth.
Lizzie Garrett - Experience Designer at Daylight
Lizzie turned down other offers to join the folks at Daylight, an organization founded by IDEO alum dedicated to doing most of their work with social change organizations. Lizzie loves her job and travels the globe helping diverse organizations improve their offerings.
Shiv Kehr - Interaction Designer at Google
Shiv joined Google in Jan 2018 and will surely work hard to continue to improve google's impressive offerings through design.
Matt Mitchell - Product Designer at Facebook
Matt is shaping product at what is arguably the most impactful organization on the planet with two billion users. We are glad to see Matt's big heart hard at work helping so many.
Kristine Yuen - Design Lead at LinkedIn
Kristine has only been at Linkedin for a short while, but has already racked up awards, is on the leadership path and hired an MDES alum from the class after her.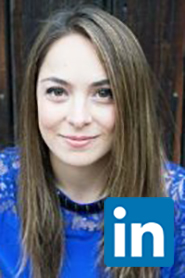 Katie Jacquez - Associate UX Designer at LinkedIn
Katie joined Kristine at LinkedIn and will surely leave her mar on the professional social networking giant.
Lauren Argo - Senior Product Designer at Intuitive Surgical
Lauren came as a senior Industrial Designer at world-leading Smart Design. After her one-year in MDES she landed an enviable job helping design laproscopic interfaces that saves lives every minute.
Anum Awan - Design Technologist Intern at Tellart
Anum landed her dream internship with MDES professors Christina Ervin and Jesus Galvez from Tellart, a world leading interactive environments studio. She is reinventing the way spaces react and interact for global clients.